Strawberry Coconut Bon-Bons
Ok, lemme just get this out there, it took me forever to name these things! Know why? Because I really didn't want to call them Strawberry Coconut Balls. Or fat bombs. I don't know why, I just couldn't. Ok, I lie. I know why. Because my mind is is the gutter but I didn't want these delicious, soft, pink balls associated with… well any other kind of balls. And something about the term fat bombs sounds gross too. So bon bons it is!
I've been seeing all sorts of various paleo balls bon bons all over the place. Most use dates and are heavy on the nuts. So I wanted to try and create something different since those seem to have been done already. And I wanted to "spring" 'em up. Even better, strawberries are on sale at local Whole Foods today so it was perfect!
I love that these treats are no-bake. It's more like mix, roll, freeze. My KIDS can even pull that off. Once you roll these *ahem* bon bons into um, balls, pop 'em in the freezer to set. Don't worry they won't shrink up or anything! But they need to harden up a bit. You can also stick them in the fridge for a few hours. I prefer to store them in the freezer though and let one (or two or three) sit out and thaw a few minutes before I eat it. My kids like them frozen, so eat them however you prefer.
BON appetite!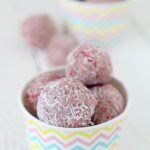 print recipe
strawberry coconut bon bons
Paleo strawberry coconut bonbons made with coconut butter and fresh strawberries.
Ingredients
2

cups

diced strawberries

1/2

cup

of walnuts

2/3

C.

coconut butter melted / softened

1/3

C.

honey

1/3

C.

shredded unsweetened coconut + additional 1/4 C. to coat

1/4

C.

ground golden flax seed

1

tsp

cinnamon

1/4

C

coconut flour
Instructions
Using a fork or food processor smash (or pulse) strawberries until they are in small pieces

In a food processor or blender pulse walnuts until they create a rough meal

In a bowl, combine strawberries, walnuts, coconut butter, honey, coconut shreds, flax seed, cinnamon and coconut flour until thoroughly combined

Line baking sheet with parchment paper

Form strawberry mixture into balls and lightly coat with additional shredded coconut

Place strawberry balls on parchment paper

Freeze for a minimum of 4 hours to set

Store in freezer and to serve pull out 30 minutes prior to allow to soften slightly