Gluten-Free Artichoke Carbonara
This Gluten-Free Artichoke Carbonara recipe was created for The Whole Smiths by Thuy Crinklaw. We've affectionately dubbed it, "It's Not About the Pasta Pasta" in honor of our favorite reality TV show, Vanderpump Rules. This carbonara takes an Italian classic and puts an LA spin on it.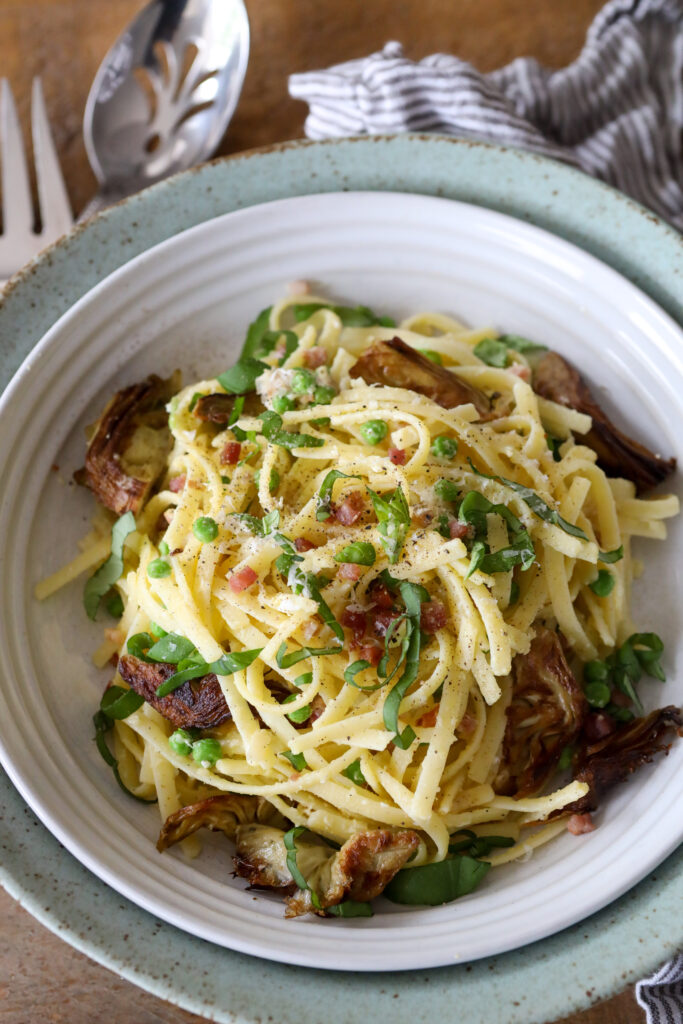 A menu perfect for your Vanderpump Reunion party.
It's no secret that I'm a huge fan of Bravo's TV show, Vanderpump Rules. I even mention it in my bio here on this site. While I'm not typically a huge fan of reality TV, this show has gripped me from the start. You can say we go way back. When Scandoval hit this last season, I was already deeply invested.
This season was so juicy it demanded its own menu to enjoy alongside the season 10 reunion. I got to work and created two cocktails for you in the image of two cast members; Scandoval, the Cocktail, which is a modern take on a Long Island Iced Tea and the Chicken + Waffle Cocktail in honor of Schwartz himself. Both drinks are far more palatable than the characters they represent.
As we all know, a good cocktail deserves a good bite to go with it. I created a Fried Goat Cheese Ball for you, a Vanderpump classic, two ways.The first is the traditional way that its served at SUR with a mango dipping sauce. I made the other with a classic marinara sauce, after trying them I realized how delicious a marinara would be with it.
And then, there was the pasta.
How this recipe came to be.
We all know it's ALL about the pasta. Let's be honest, the entire cast has been all about the pasta at one time or another. Carbs be damned! Except for Charli, we know how she feels about carbs and pasta. Regardless, there was no way that I could create a menu for the reunion without a classic pasta dish.
I had my friend and fellow Vanderpump fan, Thuy, help me develop a pasta. We wanted to create a classic pasta that had an appropriate LA / West Hollywood twist. Obviously no one in LA eats gluten, so making it gluten-free was a given. We decided on taking a classic carbonara and adding some veggies to it. Not to mention, a pop more flavor to brighten it up.
Thuy decided a crispy artichoke would bring an extra layer of texture to the dish and she was right. Pan frying marinated artichokes is absolutely delicious! It is a new staple around here for salads, pastas and snacks. I highly recommend you try it.
How to make a Gluten-Free Artichoke Carbonara sauce.
Making an artichoke carbonara is quite easy if you have the right technique. Most of the flavor in a carbonara comes from its "sauce". The sauce is simply beaten eggs (mostly yolk) mixed with a finely grated cheese that melts right into the pasta.
First, I recommend beating your eggs and adding the cheese in prior to adding it into the pasta. But really, beat those eggs. Don't leave any white streaky spots in it. Some people will add the egg straight into the pasta but I find pre-mixing the egg creates a smoother and creamier consistency. It's important to continually stir in the egg and cheese mixture into the hot pasta so that the egg cooks and thickens up while the cheese melts. This is was will create a creamy sauce for you.
How to serve Gluten-Free Artichoke Carbonara.
Serving your Artichoke Carbonara is a breeze. After you've stirred the pasta up to create a creamy sauce, you simply toss the remaining ingredients in. Personally, I like to save a few pieces of fried artichoke to garnish over top with.
You can serve this pasta family style in a large bowl or serve it individually. Either way, you'll top it with the chopped basil and a bit of additional pecorino on top at the end.
How to make your Artichoke Carbonara gluten-free.
Making this recipe gluten-free is as simple as swapping your pasta out for a gluten-free variety. These days there are a ton of different gluten-free pastas available. When I first became gluten-free, that wasn't the case. Not only can you find gluten-free pasta easily at standard grocery stores, you can find grain-free pastas as well.
With you choose will create a delicious dish. Part of what makes a traditional carbonara creamy is the addition of the starchy pasta water. Fortunately, whether you use regular, gluten-free, or grain-free pasta, your water will still be a bit starchy.
My favorite gluten-free pasta these days come from Barilla. While I used fettuccine for this particular recipe, Amazon has a great deal on Barilla gluten-free spaghetti, 12 boxes for $40, and you can use either for this recipe.
As far as grain-free pastas go, Banza is consistently the best. So many grain-free pastas tend to fall apart and not hole their shape when cooked, but Banza keeps a pasta like consistency. Amazon has an angel hair variety and a linguine available in bulk for a great value. Either will work for this recipe. You can't be too picky when it comes to gluten-free options.
print recipe
Gluten-Free Artichoke Carbonara - The Whole Smiths
This Gluten-Free Artichoke Carbonara recipe was created for The Whole Smiths by Thuy Crinklaw. We've affectionately dubbed it as, "It's Not About the Pasta Pasta" in honor of our favorite reality TV show, Vanderpump Rules. This carbonara takes an Italian classic and puts and LA spin on it. 
Ingredients
2

cups

marinated artichokes

4

ounces

pancetta

finely chopped bacon will work as well

4

egg yolks

2

eggs

½

cup

finely grated fresh pecorino romano cheese

Parmesan works as well

12

ounces

fettuccine or spaghetti

1

cup

peas

cooked

¼

cup

chopped basil
Instructions
Bring a large pot of water to boil.

While you wait for the water to boil, bring a sauté pan to medium heat. Once hot, add the marinated artichokes to the pan. Cook the artichokes for 6 to 8 minutes until they are golden brown and have crisped a bit, flipping hallway through. Set the artichokes aside.

In a dutch oven or large stick pot, cook the pancetta over medium heat until the fat has rendered and the pancetta is lightly crisped, about 5 to 6 minutes. Remove the pancetta from the dutch oven and set aside. Leave remaining fat from the placenta in the pan.

In a large bowl, whisk the egg yolks and eggs together completely. Whisk in the pecorino cheese.

Once the water has come to a boil, add the pasta and cook until tender.

Scoop out about 1 cup of the pasta water and add it to the dutch oven. Make sure the fat has cooled enough before adding the water that is doesn't splatter all over.

Strain the pasta.

Turn the heat on the dutch oven burner to medium and add the strained pasta to the dutch oven. Toss the pasta in the rendered fat and cook for an additional 2 minutes.

Add ½ cup of pasta water to the egg and cheese mixture. Slowly pour the egg and cheese mixture into the pasta while constantly stirring it to fully coat the pasta. Add the black pepper.

Stir until the cheese has melted and you have a thicker sauce coating the pasta.

Stir in the artichokes, pancetta and peas. 

Serve with chopped basil sprinkled over top.
Notes
1. Trader Joe's sells 4 ounce packages of pancetta. If you can find it readily available, you can also chop 4 ounces of bacon in its place.
2. Pecorino romano and Parmesan cheese are interchangeable in my mind. In fact, it's probably interchangeable in the minds of most home cooks. Parmesan has a more nutty, pungent flavor while pecorino tense to be a bit milder and saltier. Either will work for this recipe.
3. Fettuccine, spaghetti, whatever! Use what you have on hand in your pantry.