Cauliflower Ceviche Tostadas
This Cauliflower Ceviche Tostada recipe from The Whole Smiths is economical. simple, delicious and healthy. The cauliflower ceviche is just as delicious served alone as it is tostada-style.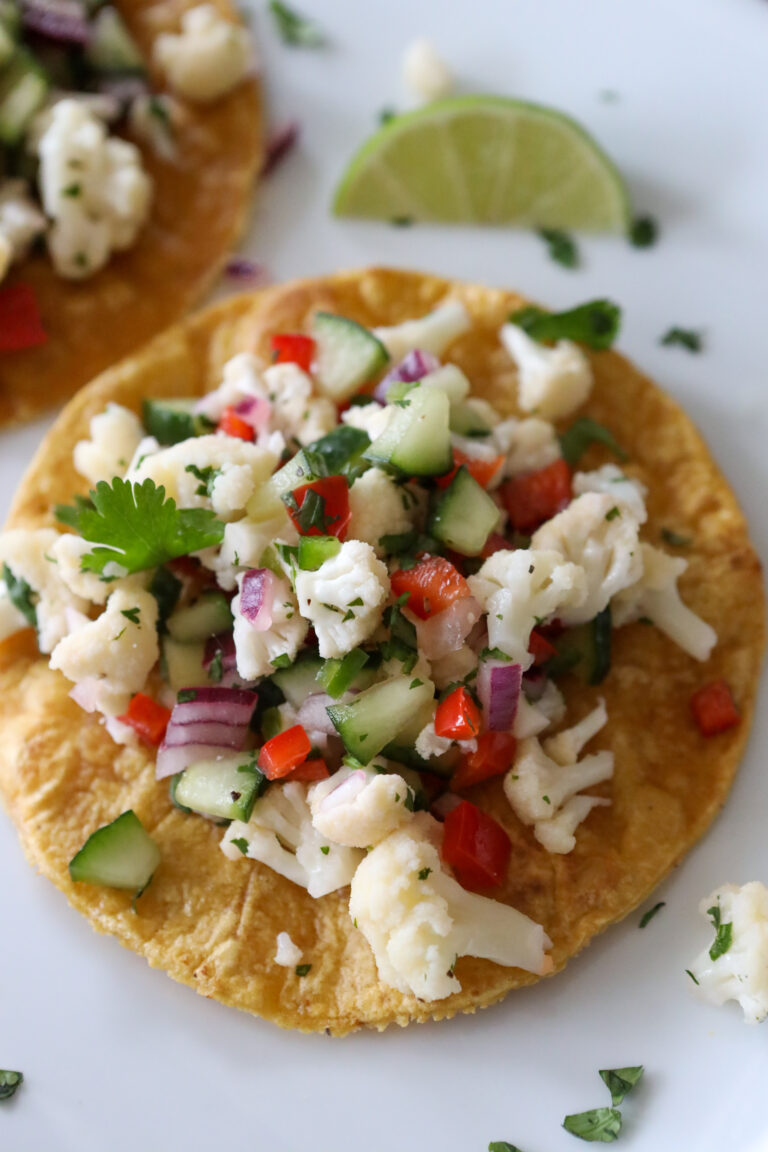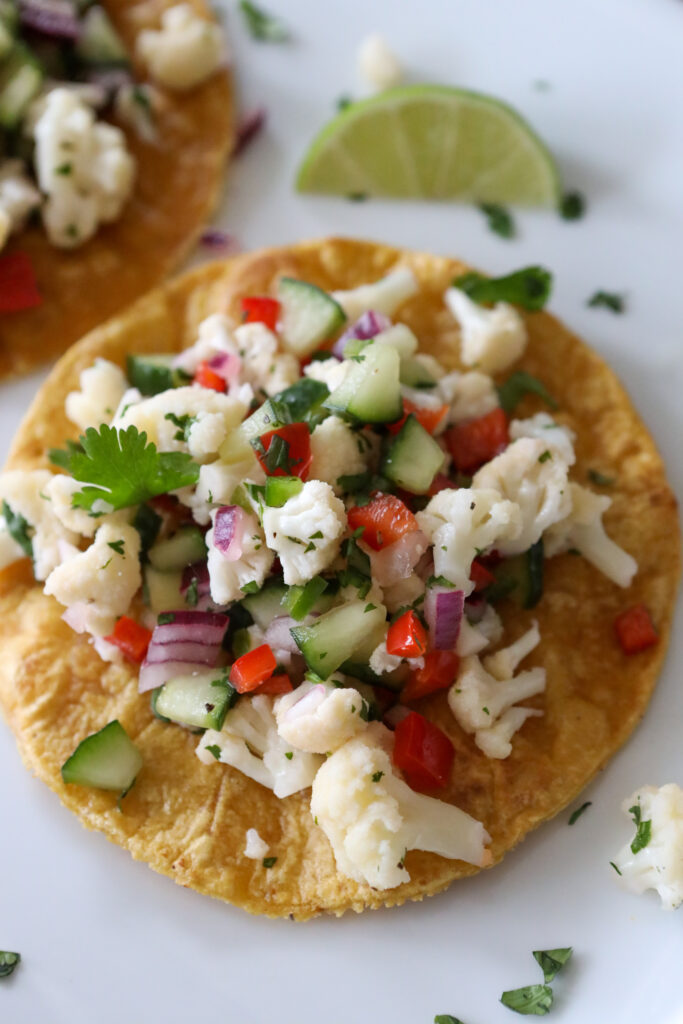 If you're looking for your next favorite, easy-to-make weeknight dish, you've found it. I created this cauliflower ceviche in mind for people who are looking for an easy and tasty way to get your veggies in some other way besides a salad. Not only does it make for a great weeknight staple for the family, but it makes a great dish to take for potlucks or when you're hosting friends. It's always a surprise hit with everyone.
What is Cauliflower Ceviche?
Cauliflower ceviche in its simplest form is a mix of vegetables. It's made predominately with cauliflower and mimics the flavors of its seafood counterpart, aka regular ceviche. A traditional ceviche is a marinated fish or shellfish dish typically served as an appetizer. Traditionally, cauliflower ceviche is made by marinating raw fish in citrus juices and letting the acid from the citrus "cook" the fish. It's traditionally served with plantains, soda crackers, or tortillas. It's a zesty, flavorful and healthy.
To make this dish I swapped out the fish and replaced it with cauliflower rice. If you'd like to add fish, by all means please do, it would be delicious. Otherwise, you're left with a light vegetarian dish that is perfect for warm summer nights when you don't want to turn on the stove.
Not to mention, it's also totally budget friendly. I added the ingredients up for this recipe and it clocked in at $13.29. AND the kids gobbled it up.
Trader Joe's for the win.
You can find all of the ingredients you need for this Cauliflower Ceviche Tostada at Trader Joe's. While you can find these ingredients at any grocery store, I find Trader Joe's to be particularly budget friendly and convenient for this particular recipe.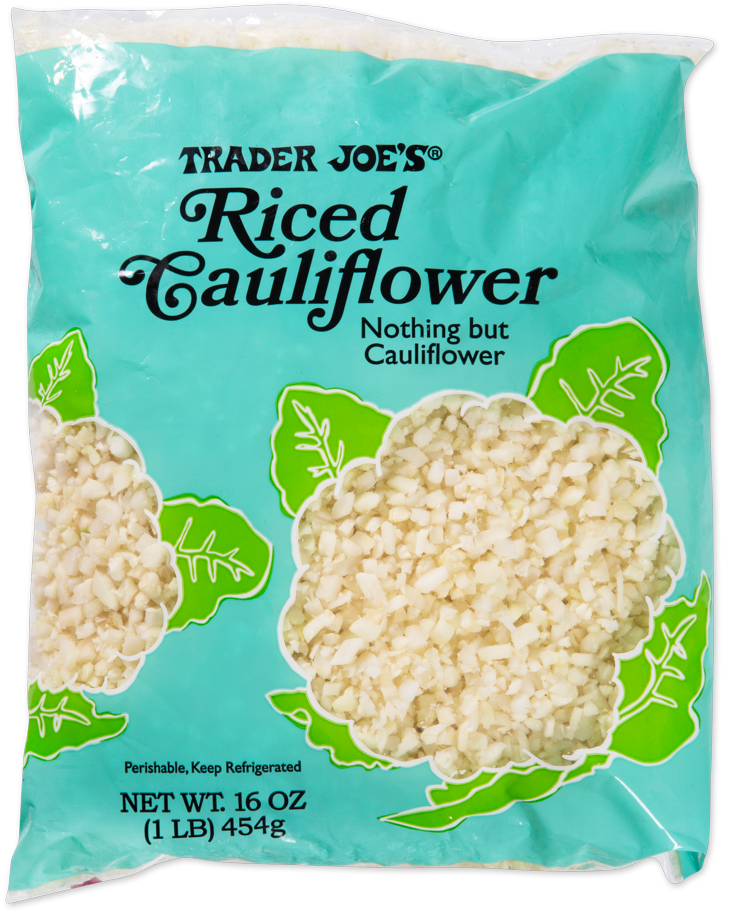 Not to mention, they serve pre-chopped raw cauliflower rice which is the perfect consistency for this particular recipe and will save you time and effort making this recipe. It's about $3 per bag, though that price may very by location. If you plan to use pre-chopped cauliflower rice for this recipe, there's no need to cook it at all. Just use it straight form the bag, as-is. I don't recommend using frozen cauliflower rice. Raw cauliflower will give you the best consistency for this recipe.
I'm also able to find the bell pepper, jalapeños, lime, cilantro and other necessary ingredients at economical prices. Like I said. this recipe only costs $13.29 when I shopped at TJ's. As far as tortillas go, I like to use their traditional yellow corn tortillas. The ingredients are simply ground corn, water and lime. While I don't usually love them for traditional tacos, this particular tortilla fries up perfectly for a tostada.
How to make Cauliflower Ceviche Tostadas.
Making Cauliflower Ceviche Tostadas is easy. If you can chop, squeeze and stir, you can make this recipe. I suggest purchasing pre-chopped cauliflower rice to make things even easier. If you'd like to break down your own head of cauliflower, that of course works just as well.
The first thing you'll want to do is prepare all of the veggies that you'll be using. Chop and break them down into bite sized pieces of similar size. If you're looking for a hot tip while you chop your jalapeños, use gloves. If you're anything like me, it's inevitable that I always touch my face or eyes at some point after chopping them. The gloves will prevent those spicy jalapeño juices from transferring to your eyes or lips.
Once you have your veggies prepared, you'l want to mix up your marinade. It's quite simple. I used an agave syrup in this recipe but you can substitute the agave with honey. Or, you can leave out the sweetener all together. It's a very small amount and it's more to balance the flavors than for flavor itself. I also prefer to use fresh squeezed limes over jarred lime juice. You'll find in this recipe the acid from the fresh squeezed limes really make the flavors pop.
From there, you'll combine the marinade and the veggies and let them sit and make sweet love for a few hours. I also recommend giving it a salt check after it's been sitting for awhile. I prefer a saltier bite but typically make my recipes a bit more on the conservative end of salty. It's much easier to add extra salt than it ever is to remove it. Salt it to your own liking.
Finally, the tostadas. Growing up my mom always fried our own tortillas for tostadas. I love that you get a bit more texture by frying your own but if you prefer to purchase store bought tostadas to save you some time, go for it. I add a bit of avocado oil to a pan over medium-high heat and fry the tortilla until it is lightly crisped. You can also sprinkle a bit of sal over top right as you pull it out of the pan. Can you tell I love salt?
It's that easy! Chop, stir, mix and fry.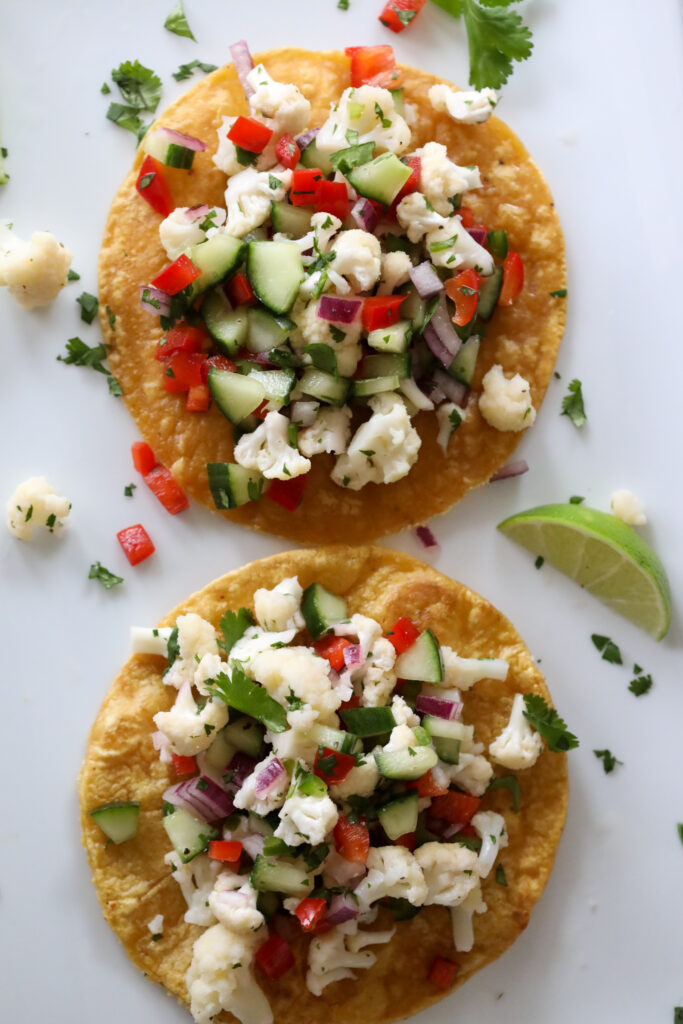 Different ways to serve Cauliflower Ceviche.
There are countless ways that you can serve this Cauliflower Ceviche. While this recipe specifically shows you how to make them tostada-style, there's no shortage of ways you can serve this delicious and healthy recipe.
First, you can simply serve them alongside your favorite tortilla chip. This may be the most simple and obvious of all the ways. It's a perfect alternative to salsa and not to mention a great way to sneak all the extra veggies during happy hour. So grab a bag of chips, pair it with my Mojito Margaritas and you're Happy Hour gold.
I also have been using any leftover cauliflower ceviche to add to tacos and it's so freaking good. It gives that pop of tanginess and balances the flavors of your tacos perfectly. Try adding it to my Baja Shrimp Tacos for an extra amazing dinner.
Did somebody say, "Taco Salad"? Yes and yes! Add this to your next taco salad for an extra burst of flavor and vegetables.
These are just a few other ways you can enjoy these Cauliflower Ceviche Tostadas, I am certain you'l find many more on your own.
TIPS, TRICKS, HACKS & SWAPS.
A diced avocado would be delicious in this. I left it out of the recipe as I was trying to keep costs as low as possible but I will definitely add one next time.

You can serve this right away but the flavors really emerge after marinating for a couple of hours
If you don't feel like breaking down a head of cauliflower, pre-chopped cauli rice will work too.

You can also serve this ceviche as a dip with tortilla chips. Hello Super Bowl!
Chop up some rotisserie chicken and toss it up with the cauliflower for an easy addition of protein if desired.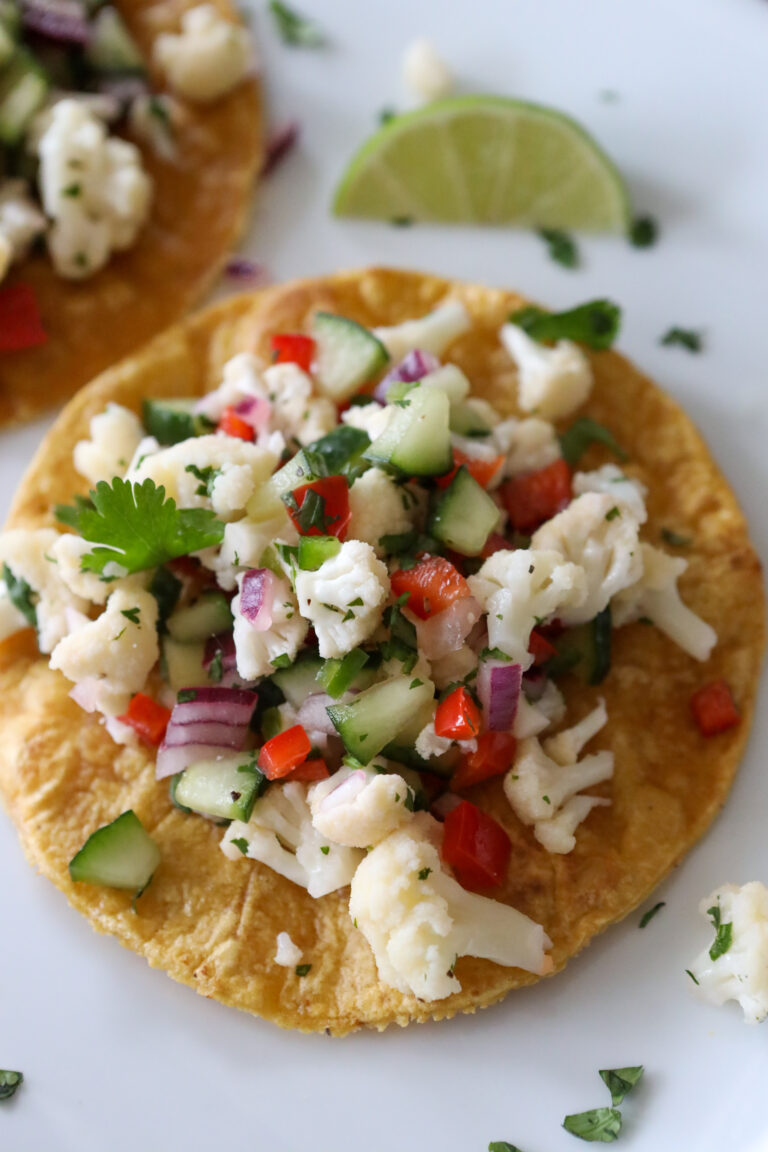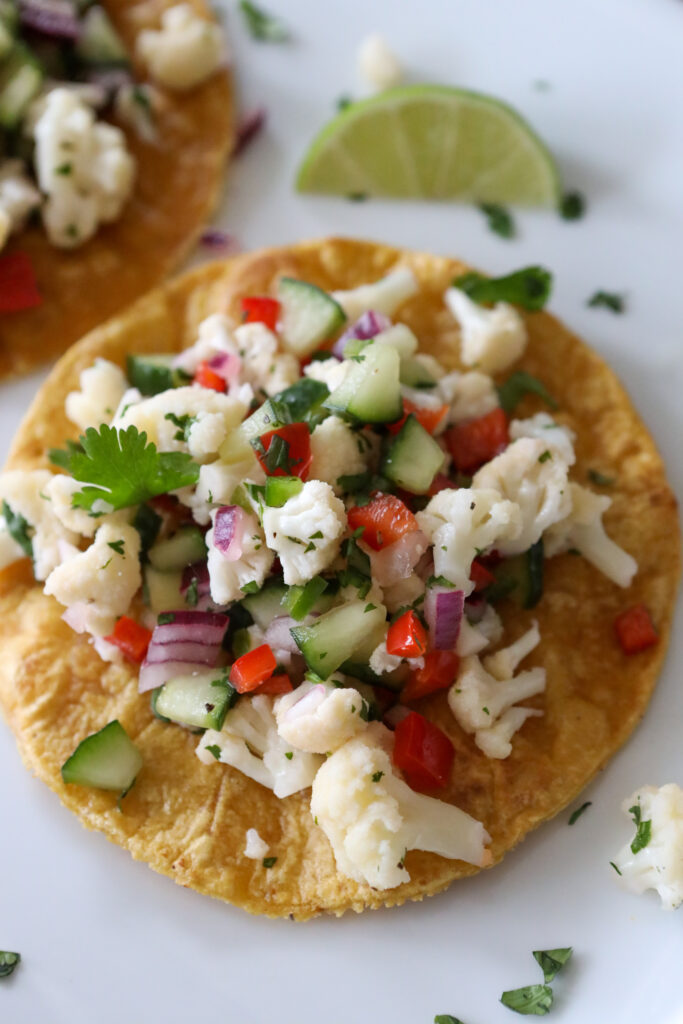 print recipe
Cauliflower Ceviche Tostada
This Cauliflower Ceviche Tostada recipe from The Whole Smiths is simple, delicious and healthy. The cauliflower ceviche is just as delicious served alone as it is tostada style. 
Ingredients
½

cup

lime juice

2

teaspoons

olive oil

2

teaspoons

salt

1

teaspoon

agave

⅛

teaspoon

black pepper

1

head cauliflower

broken into bite sized pieces (4 cups of cauli rice will work too)

1

red bell pepper

chopped

1

avocado

diced (optional)

⅓

cucumber

deseeded and chopped

¼

red onion

chopped (about ½ cup)

¼

cup

chopped cilantro

10

corn tortillas

your favorite grain-free tortilla will work as well

2

teaspoons

avocado oil for frying
Instructions
Whisk the lime juice, olive oil, salt, agave and black pepper together in a large bowl.

Add the cauliflower, bell pepper, cucumber, onion, and cilantro to the large bowl with the lime juice and stir to combine and coat well.

Additional salt to taste if desired.

Cover and store refrigerated for 4 hours.

Heat a pan over medium heat. Once the pan is hot, add about 2 teaspoons of avocado oil. When the oil is hot, fry the corn tortillas on each side for about 1 to 2 minutes until lightly crisped. Blot excess oil with paper town once it's done.

Spoon the cauliflower ceviche mix onto the tortilla and enjoy!