Pineapple + Mango Swordfish Ceviche
I don't know about you guys, but ceviche has always scared me. I mean… the fish gets cooked with just the acid of the citrus? Reeeeally? I was dubious. I always assumed it was someone else's version of "cooked". Like it was still going to be a bit slimy and fishy without the chic-ness of it being sushi.
But guess what? I was wrong! Totally wrong. It really does cook the fish through. And it's delicious. It is my favorite way by far to enjoy fish on a nice day now. It's also crazy easy. I don't know why I just assumed I needed some fancy technique I could only learn at Le Cordon Bleu or something. I assume a lot I guess, note to self to stop doing that.
Guys, you literally chop it into tiny pieces, bathe it in lime and lemon juice and refrigerate. That's it! That.is.it. Then you add in your favorite other flavors. This time I used some bright citrus / tropical notes with it.
You can serve it up with plantain chips or nothing but a fork if you're doing a whole30.
Have you made ceviche before? What are your thoughts on it? Am I the only baby around here that was afraid to dig in and try it out??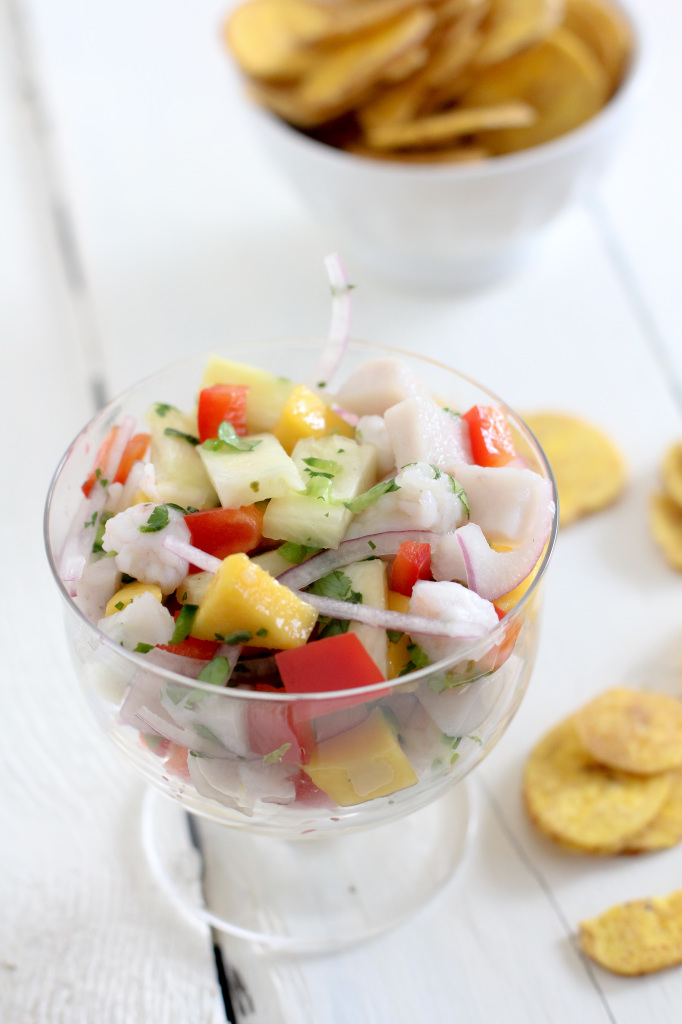 print recipe
pineapple + mango swordfish ceviche
A light fresh ceviche that is paleo and whole30 compliant
Ingredients
1/2

lb

uncooked swordfish

1/2

lb

uncooked shrimp

1/4

C.

red onions thinly sliced

2

mangoes cubed

1

cup

of freshly chopped pineapple

1

red pepper diced

1/2

poblano pepper finely chopped

1/4

C.

chopped cilantro

6

limes

2

lemons

1

orange

plantain chips for serving

salt to taste
Instructions
Cut shrimp and swordfish into small 1/4 inch pieces

In a large stainless steel bowl, combine fish, onions and juice from lemons, limes and orange

Refrigerate for 7 hours

Drain fish on onions in colander

In a separate bowl, combine fish with mango, pineapple, red pepper, poblano pepper and cilantro

Toss to coat evenly and serve with plantain chips