Whole30 Mango + Jalapeño Chicken Meatballs from the Whole Smiths. Such an easy recipe to make a GREAT for leftovers as this recipe makes a ton.
Aw man, not to toot my own horn but these Whole30 Mango + Jalapeño Chicken Meatballs came out SO good! To good to be true actually. The last time that I made meatballs turned up a hot mess. I used my dutch oven to fry them, they fell apart, it took forever and the kitchen was filthy. (Remember that Beverly??)
In my mind, I had bowed out of the meatball game. And you know what the worst part was? It took me two whole seconds to eat that pain in the ass meatball I had labored five minutes EACH with. They were delicious, no doubt, but maybe they were better suited for an Italian grandma's Christmas dinner with all the work that went into them. Fuggedit. Then last week I had a yearning for some less laborious meatballs. It was then that I made up my mind that I was going to come up with something unique, EASY and paleo. ie no breadcrumbs or cheese. And for those interested, they're Whole30 compliant.
I saw some frozen mango in our freezer yesterday and it instantly hit me. Mangoes, jalapeño & cilantro. Perfect! #Summeriscoming so that made the combo even better. (Seriously, does ANYONE get that tag?? Comment if you do.)
You'll be amazed at how moist these meatballs come out and just how much flavor you can pack into them. Just know that chicken meatballs are going to have a different consistency than beef or pork meatballs as the ground chicken has a much looser, wetter consistency. Particularly if you choose ground thigh vs. ground breast meat. Because of that, they sometimes end up seeming more like chicken "mounds". While I'm usually a thing gal, I say to stick to the ground breast meat for this one. I've made these a million times and I think it just comes down to what type of ground chicken you use, my best results have always come from the breast meat. But never fear, even if they don't end up perfectly sphered, they will be just as delicious! I served them tonight atop of some mashed cauliflower and it was a great combo.
My final tip is that these make a LOT. You will most definitely have leftovers. So if you're just cooking for yourself and don't need leftovers for days, simply halve the recipe.
* I mixed all of the ingredients first without the jalapeños so I could scoop some out for the kids. Once I did that I added the jalepeños into ours. While I am usually against making any spacial meals for the kids, I did use this modification. As well, feel free to up the jalapeños on yours if you like some heat as this recipe isn't too spicy.
If you're looking for anther meatball recipes loaded up with flavor, make sure you check out my Thai Basil Meatballs + "Peanut" Dipping Sauce.
Don't forget to Pin the image below to save the recipe for later! Enjoy!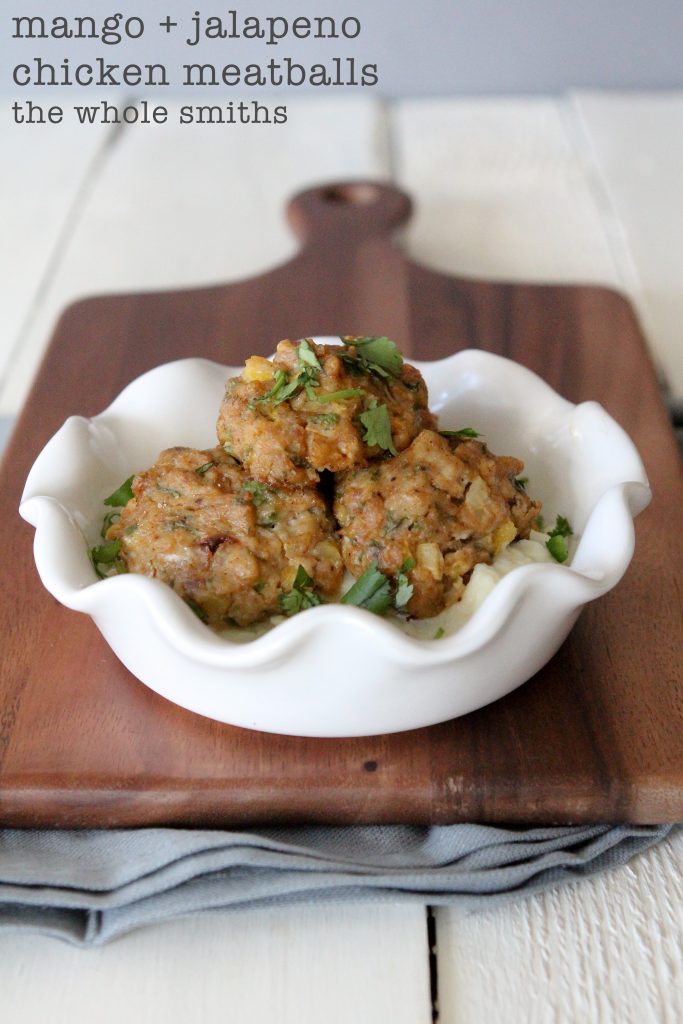 print recipe
mango-jalepeño chicken meatballs
A dairy and gluten free meatball with a kick.
Ingredients
2

lbs.

ground chicken

1/2

onion finely chopped

1

C.

mangoes chopped small

3

cloves

of garlic minced

1/3

C.

cilantro chopped

1

finely diced jalapeño*

feel free to add more for additional heat

3

eggs

1

C.

almond flour

1

tbsp.

chili powder

2

tsp.

salt

1

tsp.

cumin

1/2

tsp.

smoked paprika

1/2

tsp.

ground black pepper
Instructions
Preheat oven to 375* F.

Lightly grease glass baking dishes (I needed two) with some olive oil to prevent sticking

Add all ingredients into a bowl and combine thoroughly

Once combined, form into balls about the size of a lemon. I personally like larger meatballs as they tend not to dry out as much, but that's just my opinion!

Arrange in baking dishes and bake for about 25 minutes

Check doneness at 20 minutes as ovens may vary

They should be golden brown on top and cooked through