Grilled Pork Chop + Grape Chutney with Parsnip Puree
A couple of weeks ago I was lucky enough to attend a community and media dinner put on by the new Whole Foods near me in Dublin, CA. I had a great time as not only did they put on a beautiful dinner but we got a sneak peek and tour of the store before it even opened. I've always been a huge fan of Whole Foods. From back when I could guzzle down all of their delicious beers and desserts to now when I can find all of my "hippie" unprocessed / gluten free / paleo foods. I know Whole Foods can get a bad rap when people call it "Whole Paycheck" but the truth is you get what you pay for.
And in case you're interested in why my Whole Foods is better than YOUR Whole Foods (yeah, I went there!) check out this awesome write up HERE. Beer and wine garden? Check? Tuna Take-Downs and fresh poke? Check and check.
Ok, now on to this pork chop. One of the courses that was served at our dinner was this amazing pork chop. It wasn't your stereotypical boneless, thin, dry pork chop. (As Brad has termed your typical 70's pork chop.) It was a thick, beautiful, bone-in, juicy chop. And I knew I needed to have this in my life on the regular.
I've also decided that I'm going to become a grilling master and de-throne my husband from his grilling role. If I'm going to become the cook I want to be, it means I need to get out of my comfort zone and start cooking things I'm not used to and don't know much about. Grilling being one of them.
And to top it all off (literally) this week's One Day Sale Item at all NorCal Whole Foods are grapes. So I decided to create a balsamic-y grape chutney to pair perfectly with the pork and parsnip. So I guess you guys could say the stars were aligned for this dish. And guess what? It is one bad ass, delicious dish. You definitely need to make it.
So my grilling tip for you this week it to BRINE YOUR MEAT. It really helps meats that are typically known to be dry (such as pork chops and chicken breasts) retains their moisture. The salt in the brine actually changes the structure of the proteins enabling the meat to hold more moisture in it. And it's easy to do. Simply  take a bowl and fill it with 4 C. of water and 4 TBSP. of salt then submerge your meats into the bowl and let it sit for a minimum of one hour. You can do it up to five hours so it's your call depending on how much time you have. And now you know. So do it.
I hope you make this and love it as much as we did. It's definitely a dish you can wow your friends with at your summer BBQs. Let me know if you have any questions in the comments and I'll help you out. Or at the very least, I'm really good at Google.
PS To make this Whole30 complaint simply leave the honey out of the chutney and you're good to go!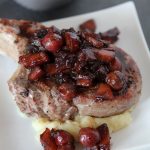 print recipe
grilled pork chop + grape chutney with parsnip puree
A grille pork loin chop topped with grape chutney and a parsnip puree.
Ingredients
4

pork loin chops bone-in roughly 1.5 in thick

1

clove

of garlic

3

TBSP

olive oil + additional for drizzling

2

apples peeled and diced

2

C.

grapes

1

shallot thinly sliced

2

TBSP

honey

1

tsp.

chopped thyme

1/8

C.

balsamic vinegar

1.5

lbs

parsnip peeled and cubed

2

TBSP

ghee

Salt + pepper
Instructions
For pork chops:
In a large bowl add 4 C. of water and 4 TBSP salt to create a brine

Peel and smash clove of garlic and add to brine

Add pork chops to bowl and brine for a minimum of 1 hour up to to 5 hours

Once finished brining, pat chops dry and coat with a coat of olive oil

Season chops generously with salt and pepper and set aside

Bring BBQ to a medium high heat

Sear each side of meat for 3 minutes over direct heat

Once seared, move to indirect heat and close the lid

Cook pork until it reaches an internal temperature of 135*

Remove from heat and cover with aluminum foil to set for 10 minutes
For grape chutney:
In a cast iron skillet heated on medium, add 3 TBSP. of olive oil, apples, thyme and shallots

Sauté until they become tender

Raiser temperature to medium high and add grapes

Let cook for two minutes tossing frequently

Lower heat back to medium

Using a potato masher, gently smash most of the grapes down to release moisture

Add honey and combine

Add balsamic vinegar and lower heat to medium low in order to reduce vinegar

Continue to cook and stir until chutney is reduced a bit and thick
For parsnip puree:
Bring a large pot of water to boil and steam parsnips until tender

Once tender add to food processor or high powered blender

Add ghee and blend until pureed

Salt to taste