Gluten-Free Vegetable + Pork Ramen
This Gluten-Free Vegetable + Pork Ramen recipe from The Whole Smiths in partnership with Belcampo is adapted from her cookbook, Real Food Every Day. This is a perfect weeknight meal that comes together easily and tastefully. A hit for the entire family!
This recipe for Gluten Free Vegetable + Pork Ramen is a dish we have on regular rotation at the Smith house. It's not surprising for us to have it every other week sometimes. Which quite frankly, is a lot considering how much recipe development I tend to do. I love to use Belcampo's sustainable and pasture-raised pork in this recipe and our audience will receive 20% off their first order with the code "WHOLESMITHS" at checkout.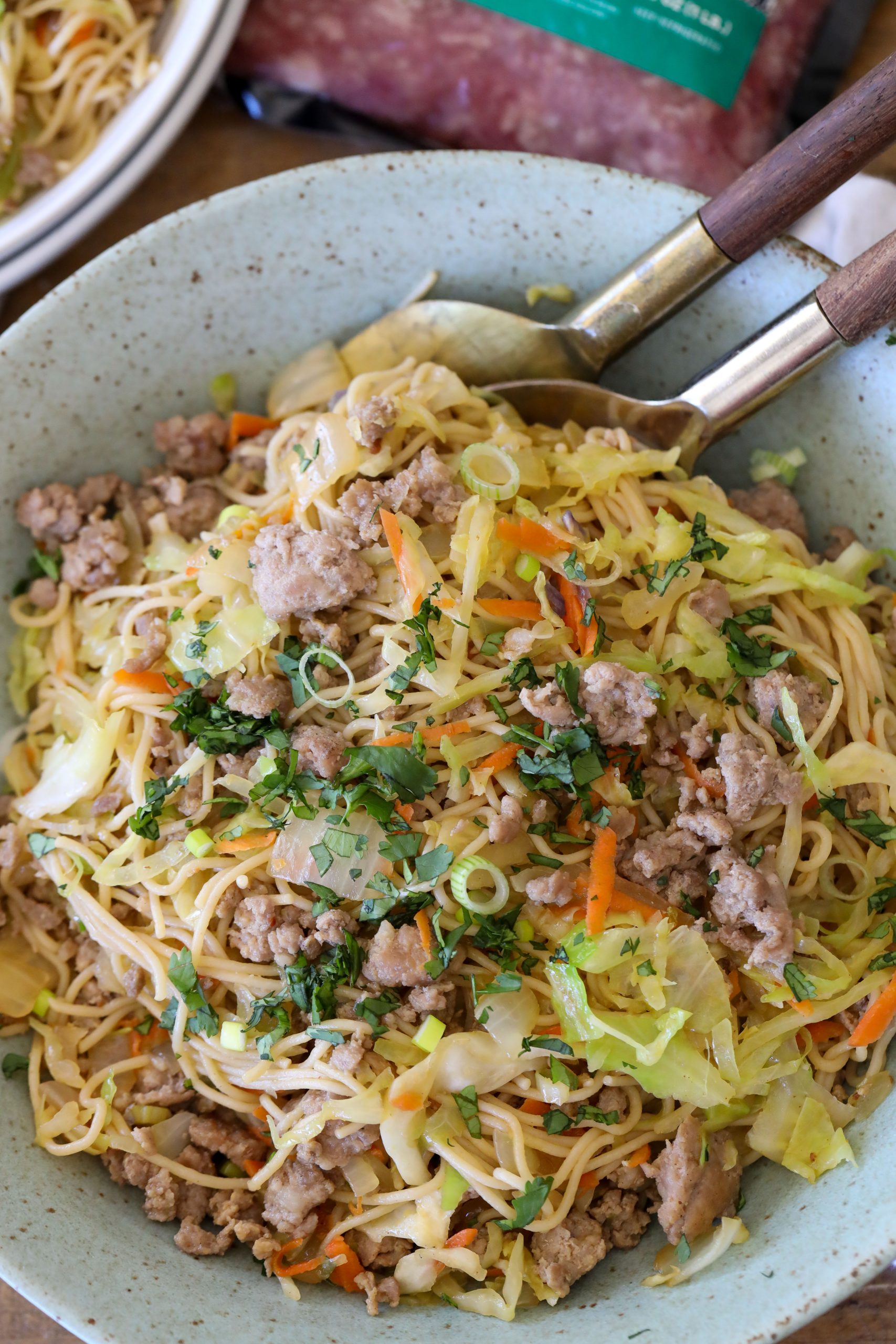 You can find a similar recipe in my latest cookbook, Real Food Every Day. While the recipe in the book calls for carnitas (which you can absolutely use) I find ground pork to be an even easier option to get this recipe on the table. I also use pre-shredded cole slaw mix in this version rather than shredding carrots and cabbage myself. It saves a ton of time and it as well economical.
Weeknight Easy.
Likely one of the reasons we tend to have this recipe on repeat is that it is so easy to make. Like, unbelievably easy. Not to mention, it doesn't take a ton of ingredients nor does it take ingredients that are difficult to source. The most difficult ingredient to find is likely coconut aminos (a lightly sweetened soy sauce alternative) which can be sourced at most grocery stores or online at Amazon. You also don't need to have mastered any fancy cooking skills other than boiling water and sautéing. Which, I have all the faith that you can do beautifully.
This recipe can be made in just under 30 minutes which makes it ideal for a busy weeknight when you're racing home from work or dropping kiddos off at soccer practice but want a hearty and wholesome dinner on the table with minimal fuss that the entire family will love.
Pork Done Right.
As you know, ingredients are of the upmost importance here at The Whole Smiths. We try to buy organic produce wherever possible and sensible, we read our labels and try to avoid foods that have too many funky ingredients and we pay attention to the quality of the meats we are consuming.
When we started focusing on purchasing sustainable, properly raised protein meats we found it quite easy to find grass-fed ground beef. But that was about it. Other cuts and other protein sources were quite difficult to find, particularly pork. That was disappointing because we really loved using pork products in our home. Much to our disappointment, meats like bacon, ribs, ground pork, chops and sausages were hard to come by and became less frequent in our home.
Belcampo Meats Win.
Enter Belcampo. One of the things that first struck me when we started using Belcampo was their vast variety of meats and cuts. No longer was I relegated to using grass-fed ground beef all the time! Belcampo has a wide variety of pork, lamb, beef and poultry. One of my favorite staples to have on hand is their ground pork. We use it ALL.THE.TIME. Whether it's making making breakfast sausage in the morning or creating recipes like this Vegetable + Pork Ramen, it quickly became a staple. Their pork butt is fantastic for our Instant Pot Carnitas if you choose to use that in this recipe.
Why Sustainable, Grass-Fed, Pastured Meats Are Important.
We all hear that sustainably sourced, pasture-raised, grass fed products are great for us and the environment, but why? Let's dive into the health components first. When animals are raised on open pastures and on natural organic diets, their meats are higher in omega-3 fatty acids which has been shown to lower blood pressure and heart disease. For example, according to Belcampo's new quarterly nutrition data, Belcampo's pasture-raised pork contains 25 times the amount of Omega-3's than conventional pork and a ratio of 2:1 of saturated to unsaturated fat. Pasture raised meats are also lower in total fats but higher in "good" fats and low in "bad" fats. As well, it contains more linoleic acids which are proven cancer fighters along with a higher amount of Vitamin D.
As far as environmental concerns, Belcampo partners with farms that are dedicated to regenerative agriculture. Which means they are climate positive and carbon negative. Animals are rotated amongst different lands based on herd size and plant growth cycles to cultivate healthy soil, capture carbon from the environment, and limit impact on watershed.
By choosing to purchase animal products from companies like Belcampo, you are literally doing something proactive and positive for both your health and the environment. If you'd like to give Belcampo a try, and I suggest you do, you can use "WHOLESMITHS" at checkout for 20% off your first order.
I can promise you that this recipe as well as Belcampo's meat products will soon be family favorites in your kitchen. If you make this recipe, make sure to take us @thewholesmiths and @belcampomeatco so we can share your creations with our audience.
TIPS
To ensure this recipe is gluten-free use a rice based ramen noodle such as this

brown rice and millet ramen

.

Use any pre-cut or shredded veggies to save on time.

Make sure not to overcook your ramen as the noodles will fall apart.
What other vegetables can I use in this recipe?
Truthfully, we use all sorts of vegetables in this recipe and use it as an opportunity to use up whatever veggies are in our fridge that need to be used. Some ideas that some to mind include, shredded Brussels sprouts, bok choy, baby spinach, chopped broccoli, you name it. Use what you have on hand and sauté it up until tender just the same way you do with the slaw.
Can I use ground turkey or beef with this recipe instead?
Of course! It will have a slightly different flavor profile but it works just the same.
Can I make this recipe with zoodles?
You can! Zoodle you vegetable and add the sautéed pork and vegetables in hot. You do not need to cook the zoodles ahead of time. The heat and moisture from the sautéed ingredients will soften the zoodles while making sure they don't get too soggy. Make sure to toss them to incorporate the ingredients.
print recipe
Gluten-Free Vegtable + Pork Ramen
This Gluten-Free Vegetable + Pork Ramen recipe from The Whole Smiths in partnership with
Belcampo
is adapted from her cookbook, Real Food Every Day. This is a perfect weeknight meal that comes together easily and tastefully. A hit for the entire family!
Ingredients
1

pound

ground pork

2 1/2

tsp

salt

2

tsp

avocado oil

1

medium

yellow onion

chopped

6

ramen cakes

about 1 pound of dried ramen noodles

1

tbsp

sesame oil

6

cups

shredded slaw mix

4

cloves

garlic

minced

1/4

cup

coconut aminos

1/4

cup

tamari

1/4

cup

cilantro

chopped, to garnish
Instructions
Bring a large pot of water to a boil.

Season with ground pork with a teaspoon of the salt. Heat a large frying pan over medium heat and add 1 teaspoon of the avocado oil. Once the oil is hot, add the ground pork to the pan and cook until lightly browed and cooked through, breaking it up as you stir, about 5 to 6 minutes. Remove the cooked pork and set aside. 

In the same pan, add the onions (and additional teaspoon of avocado oil if the pan is dry) and 1 teaspoon of the salt and cook until the onions are tender and lightly browned, 7 to 8 minutes.

While the onions are cooking, add the ramen noodles to the boiling water and cook them according to the package instructions. Once the noodles are tender, drain them and return them to the pot. Add the sesame oil and gently toss to coat the noodles. Set aside to keep warm.

Add the shredded slaw mix and the remaining ½ teaspoon salt to the onions and and cook until the cabbage is tender, 3 to 4 minutes. Add the garlic and cook for an additional minute.

Add the vegetable mix to the noodles along with the coconut aminos, tamari, and ground pork. Toss the noodles, vegetables, and meat together until coated. Sprinkle the cilantro over top to serve.

Store any leftovers in an airtight container in the refrigerator for up to 3 days.