Beet, Pear & Goat Cheese Panini
Imagine Homer Simpson saying, "Ahhh, donuts". Now imagine replacing donuts with sandwiches* and picture me saying it. That's how much I love sandwiches. And I don't discriminate. Ok, that's a lie. I discriminate against bad sandwiches. But other than that, I'm really not picky…
However, once I started cleaning up my diet, sandwiches were the first to go. Mostly because when I first started on the paleo train I ditched ALL grain and most all dairy. So without either of those, sandwiches became a little trickier. But as I've found what works well with my body and what doesn't I started introducing some gluten-free bread back into my diet and some dairy. And while I don't guzzle glasses of non-fat milk the way I used to I DO add organic goat cheese to my salads, soups, veggies etc. And since gluten-free bread is more expensive and the slices are MUCH smaller it's self-limiting. 🙂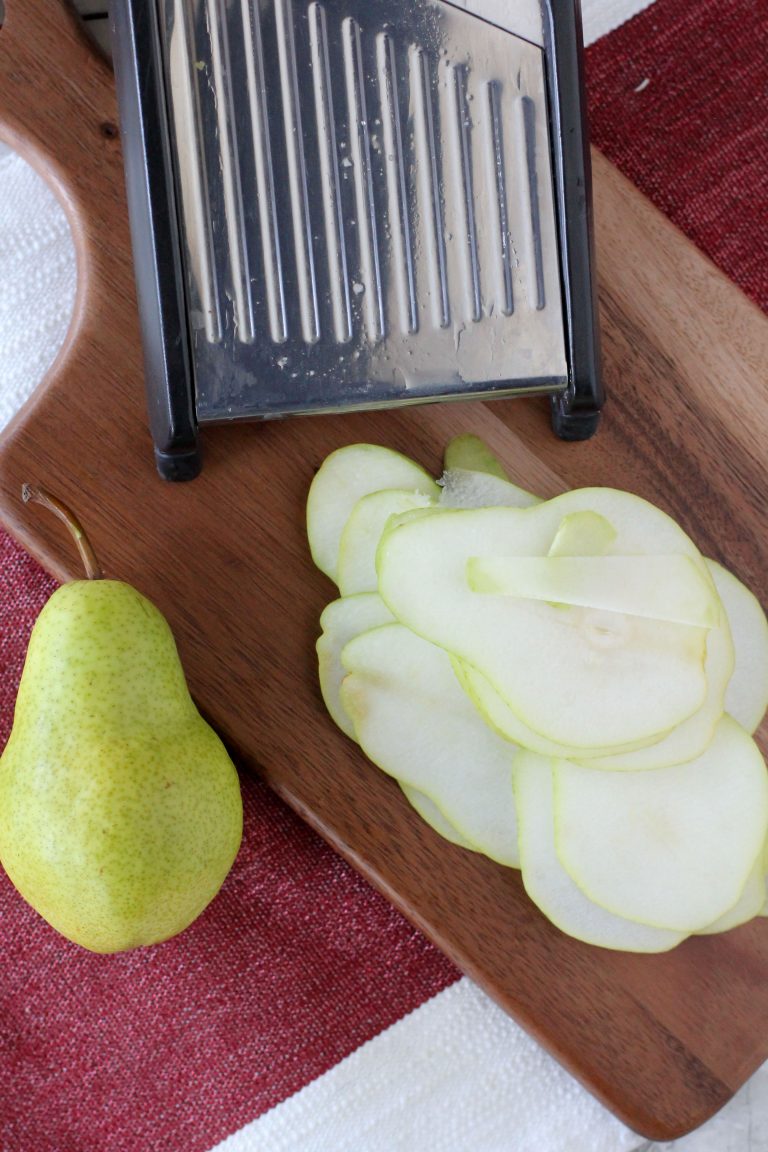 With all of this being said, sandwiches are back in my life… in moderation of course. I guess considering I used to eat sandwiches AT LEAST once a day (lunch and if I was lucky another one at dinner and in fact I'm even adding THIS recipe to the dinner category on my blog for old times sake) moderation needed to step in and straighten me out. But truly, that's what I love about this food journey that I've been on the last few years. It's made me take a good look at what I was eating on a regular basis and reevaluate.
I don't think a traditional sandwich is an awful thing. But having a giant hunk of dutch crunch with a few slices of turkey, iceberg lettuce (that has little nutritional value), processed mayo and loads of cheese day after day can't be a health positive thing in my diet. It's one of those things you can look at and say, how can I make it better? Well first off you don't need that giant hunk of gluten-y bread, it's not doing anyone any good. And second, be a little more thoughtful about the nutrient density of what you're putting into that sandwich.
I created this sandwich with that in mind, I wanted to add nutritionally valuable fixings into it. Starting with my fave part, Love Beets beets. In case you were unaware, beets contain tons of Vitamin C, fiber, folate, potassium, the list goes on and on. And while I love a tangy pickle in my sandwich, a tangy beet is the nutritional winner. And with flavors from Love Beets like Sweet Fire, Honey & Ginger you really can't go wrong.
A few other things I did was swap out that iceberg lettuce for some better-for-you spinach, added some pears for a touch of sweetness and used some prosciutto so get some healthy fat and protein in there. As far as bread goes, I used a gluten-free bread. And yes, it still crisps up nicely in true panini fashion. Just make sure you add a bit of healthy fat to the outside like butter or ghee so you get that golden brown crisp from it. As well, slice your beets and pears as thin as possible for this sandwich / panini. I recommend using a mandolin but be careful friends, those things are no joke. Just ask my fingers.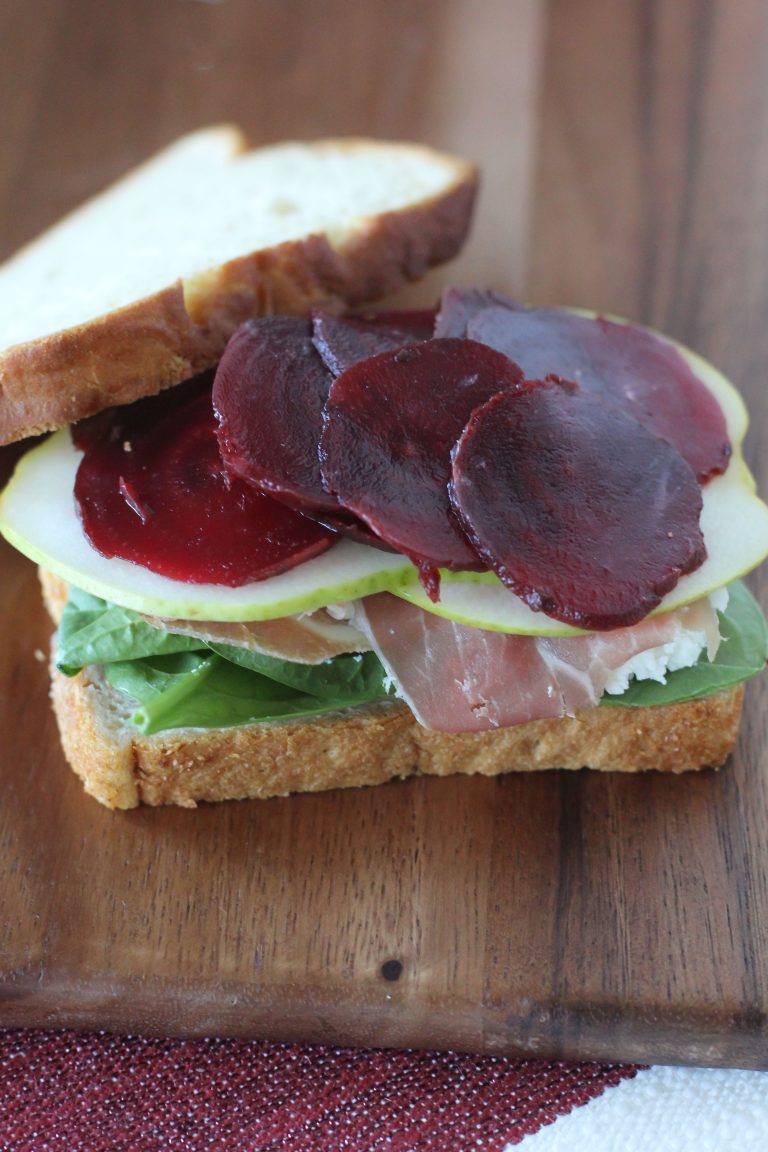 I LOVE, LOVE this easy recipe for holiday hosting as well. It is SO easy yet festive and fun. You can cut it into quarters for a bite-sized appetizer or have a plate of them alongside of your other fixings. And how cute is it to use some rosemary to hold it all together rather than a boring 'ol toothpick? I'm feeling straight up like Martha Stewart with that trick, minus the prison vibes of course. I'm planning to have a killer holiday cocktail party next year once our renovation is compete and these will be on that menu.
AND in case you're looking for some other festive holiday beet bites using Love Beets, check out some of these recipe from your other favorite bloggers:
Simone from Zenbelly – Beet & Orange Endive Boats
Anya from Anya's Eats – Paleo Chocolate Chip Red Velvet Fudge
Kristen from Living, Loving Paleo – Beet, Pear & Prosciutto Bites w. Maple Pecan Sauce
Now that you've got a ton of new recipes to try, go beet it! (Sorry, I couldn't pass up a good beet pun.)
*Just so you know, I've literally misspelled sandwich wrong every single time I have typed it in this post. WHAT is wrong with me?!
print recipe
Beet, Pear & Goat Cheese Panninis
An easy to make sandwich from the Whole Smiths using healthy Love Beets beets, pears, goat cheese and more.
Ingredients
4

slices

of bread

1

Tbsp.

+ 1 tsp. melted butter or ghee

1/2

C.

baby spinach

2

Love Beets White Wine and Balsamic beets thinly sliced

1/2

pear thinly sliced

4

slices

of prosciutto

2

Tbsp.

goat cheese
Instructions
Brush one side of each slice with melted butter or ghee

Layer 1/2 of all of your ingredients onto unbuttered side of bread slice; spinach, Love Beets beets, pear, prosciutto and goat cheese

Place slice of bread on top, butter side out to create sandwich

Heat a panini press to medium high heat and lightly grease using additional butter or ghee

Once hot, add sandwich and press

When bread is a golden brown, remove

Let cool slightly and cut in half to serve