This Gingerbread Whiskey Sour recipe from The Whole Smiths is perfect for any holiday or Christmas celebration. It's easy enough for any home bartender to master but fancy enough to make you feel you're sitting at a fancy bar.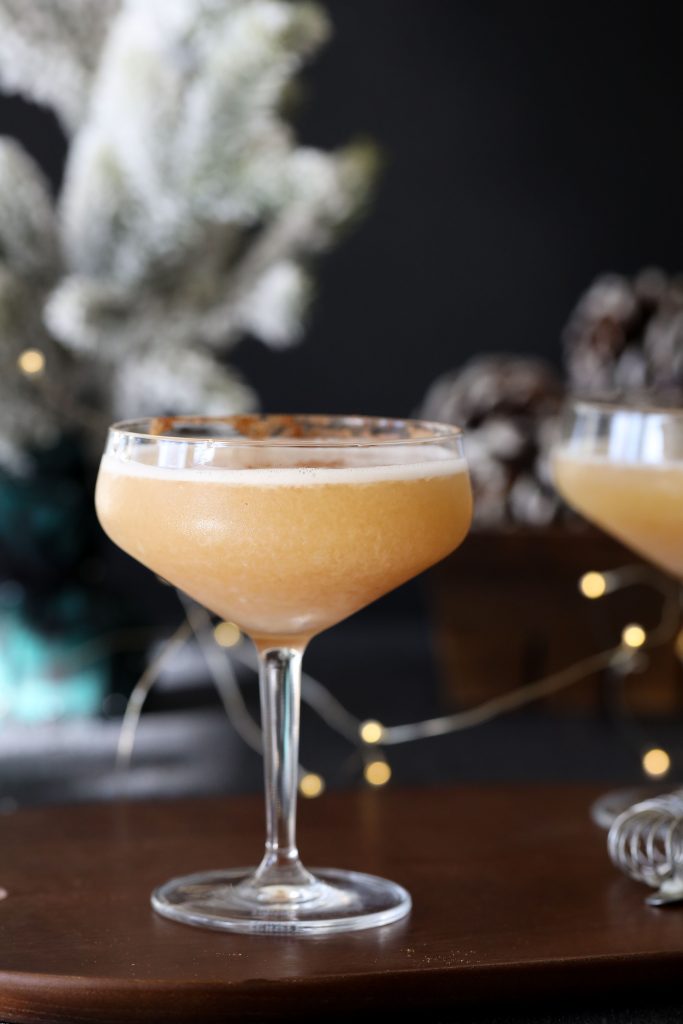 I love, love, love me a well balanced cocktail. And by that I mean not super boozy but also not overly sugary and syrupy. Which defines this Gingerbread Whiskey Sour perfectly. There was a time when I could down any drink put in front of me and age and an affection for finer things in life have moved me away from the Jaegermeister and onto a properly crafted cocktail. I feel people can be intimidated my making their own craft cocktails but it doesn't have to be that way!
When to shake and when to stir.
Ah, the age old questions. Shaken or stirred? I can help shed some light on that. It really depends on the ingredients in your cocktail. A martini however, often comes down to simple preference. A vigorous shake will break the liquid down and shift the texture so that may not be preferred in a drink like a martini. A shaken cocktail will help you get your drink a bit colder and emulsify the ingredients differently.
The ingredients to look out for that demand a shake include things like, eggs, juices, dairy, and cream based liquors. Most often, the ingredients I prefer in my cocktails. Drinks like a margarita, sour, or cosmo beg for a good shake. But what if you're making a drink that has soda or fizzy something-or-other AND has any of those ingredients? Add all of the ingredients, sans the fizzy, shake then add the fizzy after the drink has been poured.
Holiday cocktails are the best cocktails.
I mean, some would say any cocktail is the best cocktail but there's something I especially love about holiday cocktails. They just feel so damn festive. I mean, who wouldn't be thrilled to show up at a holiday party serving up a Gingerbread Whiskey Sour? This time of year I'm particularly drawn to cocktails with a bit of spice and depth. Liquors like bourbon and dark rum tend to go best with the flavor profiles I prefer.
Not to mention, egg nog based cocktails are always a favorite of mine this time of year. Heck, egg nog PERIOD is always a favorite of mine this time of year. Tarth be told, if they sold egg nog year around it would likely be my favorite year around. But that's beside the point.
While I love the taste of egg nog I find if I have too much egg nog my body doesn't love it. So dairy-free egg nog it is. In fact, I find that dairy-free egg nog is my preference when it comes to cocktails as it isn't as thick and rich and won't overwhelm the other flavors in the drink. If you're looking for a homemade Dairy-Free Egg Nog, I have a recipe you'll love! It's a close second to the real deal.
If you're looking for another particularly festive drink make sure to check out our Thanksgiving Punch (which is just as great for any other winter holiday) and our Dairy-Free Peppermint White Hot Chocolate. The Peppermint White Hot Chocolate is great for the kiddos or add a splash of your favorite sprit for your own.
How to make a Gingerbread Whiskey Sour.
This may be one of the easiest recipes to impress your friends and family with a proper cocktail. You don't need any specialty bar ware or hard to find ingredients. If you can shake, you can make this.
Add the ingredients to a shaker glass and shake. That's it. Just make sure to shake it a lot, likely a bit longer than you think you should. Strain it with a Hawthorne strainer and pour it into your favorite glass, a coupe glass is my personal preference for this drink.
In terms of batching this cocktail, there are a few things to keep in mind. You can definitely double this to make a portion for two in the shaker as the recipe calls for, it fits just fine. Just make sure not to add TOO much ice to the shaker as it will definitely overflow and explode all over the place. Not that I would know. (Looks around nervously..)
You can make a larger batch for a group but I recommend making it in a large mason jar ahead of time and giving it a shake to break up the egg whites. You can store it for about 24 hours in the jar. When you're ready to serve it, pour it into the shaker and shake with ice, up to two portions at a time.
With that, you are ready to impress your friends!
If you're looking for an extra decadent bourbon based dessert-style cocktail, check out this Egg Nog Bourbon + Bacon Float I whipped up. It's rich AF and worth every sip and bite.

Tips:
Make a batch of the gingerbread simple syrup ahead of time and keep store it in your refrigerator up to two weeks. Make sure it's cooled when you use it.
My favorite glass to serve these in are coupe glasses and these in particular are my favorite.
Fresh lime juice always makes a better cocktail so opt for fresh limes if you can.
Can you make this a cocktail a mocktail?
Truthfully? Not really. There aren't a lot of ingredients in this one and the bourbon is center to it. You can however replace it with a bit of soda water (try the cola La Croix) for a slightly similar flavor profile.
I'm not a fan of bourbon, are there any other alcohols I can use?
Yes! I tried this recipe with dark rum and it was lovely as well.
I have a pre-mixed gingerbread spice blend, can I just use that in the syrup and rim?
Yep!
The raw egg sleeves me out, are there any alternatives?
You got it! You can also use aquafaba. It's the syrup-y liquid that legumes have been cooked in. Aka the liquid you drain out of a can of chickpeas. It works great if you aren't into the egg component. But I highly recommend the egg.
print recipe
Gingerbread Whiskey Sour
This Gingerbread Whiskey Sour recipe from The Whole Smiths is perfect for any holiday or Christmas celebration. Easy for any home bartender!
Ingredients
3

ounces

bourbon

1½

ounce

lime juice

1½

ounce

gingerbread simple syrup

See notes

1

egg white
Instructions
Add all of the ingredients to a shaker glass with ice and shake vigorously for 30 seconds. Strain into a glass and sprinkle with additional ground ginger and cinnamon.
Notes
To make the gingerbread simple syrup add 1 cup of water, 1 cup sugar, ½ teaspoon cinnamon, ½ teaspoon ground ginger, ¼ teaspoon allspice to a sauce pan and bring to a boil, frequently stirring. Once the syrup comes to a boil, reduce the heat and simmer on low until the sugar has dissolved. Let the simple syrup cool before serving and store leftovers in an airtight jar up to two weeks.