Pumpkin Chai Adaptogen Latte
This Pumpkin Chai Adaptogen Latte from The Whole Smiths is soon to be your favorite fall drink. There's no coffee and it's packed with adaptogens like ashwagandha and maca. Not to mention, it's dairy-free!
I gave up caffeine years ago. I can handle small amounts but a full cup of coffee is a no-go in my book. As someone who leans on the more anxious side of life, caffeine exacerbates those anxious feelings. It speeds up my heart rate, I get clammy, my mind doesn't work well and I'd have been better off with a line of cocaine in a dark bathroom somewhere. Ok, maybe not that dire. But you get the idea.
Caffeine-free for me.
I gave up caffeine in my early 20's. I had started getting panic attacks and when I looked around my life, stress was everywhere. Caffeine tends to underline all that is misaligned in my life and turns it into a dramatic Hollywood blockbuster that I can feel pulsing through my body. Those that have experienced the same know exactly what I'm talking about.
It sneaks in from time to time and I enjoy it in small to moderate amounts, but more than one mildly caffeinated drink and I'm out. I enjoy decaf coffee because I love the flavor (Blue Bottle is my favorite as it's processed properly) and one of my Mason Jar Iced Matchas in the early afternoon for it's health benefits and light pick-me-up. But other than that, caffeine isn't something that's a regular part of my diet. And it doesn't need to be.
I'm not going to lie though, I'm often jealous that people can drag themselves out of bed in the morning, have a cup of coffee and like *that*, they're ready for their day. But! There are other ways to start our day that add beneficial nutrients into our bodies and give us the support we need to first thing in the morning. When I started looking around for coffee alternatives, I realized there's a lot of amazing plant-based supplements out there that give us some of the same benefits that one gets from a cup of coffee. Minus the crazy.
What's an adaptogen?
I started adding adaptogens and other plant-based supplements to my beverages last year when I realized I wasn't great at remembering to take them in pill form. I always started off strong however tapered off after about 2 weeks of swallowing what seemed to be 5 million pills. Which is a shame because adaptogens work best on a long term basis. Once I started adding it to my morning beverage and added them to an already existing daily ritual, it was so much easier to remember.
Besides, it's so much more fun to take them in a delicious drink anyways.
Hence, the Pumpkin Chai Adaptogen Latte. It's free of coffee but has all of the taste you've come to expect in your favorite seasonal drink. Not to mention, beneficial adaptogens like ashwagandha and maca. So what is an adaptogen?
In short, an adaptogen is a plant that helps us resist stressors and creates a balance of homeostasis within our systems. I know, it's a mouthful. They're meant to set us back to balance. We have a complex system of hormones and stress regulators functioning in our bodies. With all of the stresses (mental, physical, environmental, and more) we're facing on a regular basis it becomes taxing on our system and it's important to support them.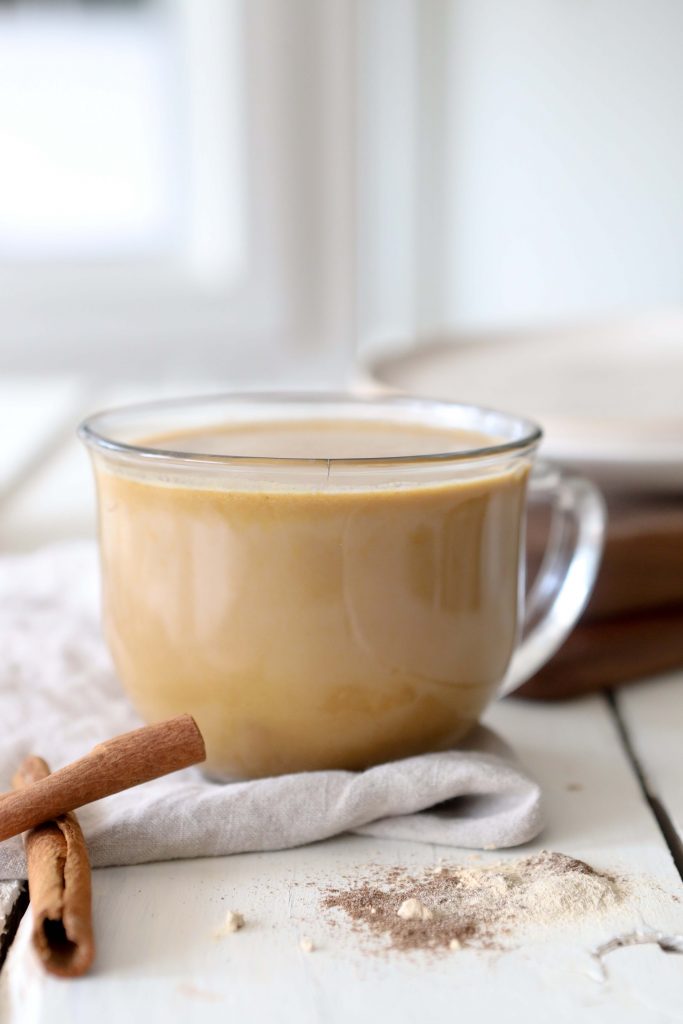 Plenty of stress to go around.
I haven't been all that great at managing stress throughout my life and I've felt the effects of it. As someone who identifies as a strong, ambitious, capable woman who tends to take on more than I actually can manage, it's been taxing on my system. Add in a global pandemic, full-time mom, part-time teacher, political turmoil, California wildfires and terrible air quality, something is gonna break.
Managing stress is a multi-pronged approach. I'm not suggesting that drinking these beverages will make all of your stressors disappear but I will say they will help support your body and adrenal system as you manage it.
Pumpkin Spice so nice.
So why not introduce this concept to you through America's favorite warm beverage flavor profile? Pumpkin Spice. Except I tweaked it a tiny bit and made it chai… which is a spice profile anyways. The pumpkin chai flavor meshes perfectly with the light, malty flavor of the ashwagandha and maca.
Not only is aw-sh-wa-gone-duh fun to pronounce, it has a multitude of fantastic benefits for you. Ashwagandha may be the queen of adaptogens and one that we're most familiar with. It's purported to manage cortisol levels, lower blood sugar, improve concentration and reduce stress and anxiety. Not a bad way to start the day. Or as a mid-afternoon pick-me-up.
While you can take ashwagandha in a pill form, I use powdered ashwagandha in this recipe as well as powdered maca. Maca is a plant sometimes known as Peruvian ginseng and bears similar benefits. Not only is maca root loaded with essential vitamins and nutrients, maca is also known to boost mood and energy, improve memory, and help keep your metabolism on track.
I also added a bit of reishi mushroom powder as it's know to boost your immune system, fight fatigue and depression. Not to mention it's an antioxidant.
Not a bad way to start your morning, eh?
Cha, cha, chai.
Onto the "chai" part of this drink. I find most people don't know exactly what "chai" is. Is it a tea? Is it a flavor? A drink? What is it?
Uh, well all of the above somehow. I'll break it down. Chai is a Hindi term for tea steeped with spices. Typically it's a black tea steeped with spices such as cloves, ginger, cinnamon and black pepper. While it varies from place to place, chai has also come to represent a flavor profile of those spices. Hence, chai cookies, chai-whatever.
As far as the chai I prefer, I like Blue Lotus Chai. It includes black tea which does have some caffeine but only 10-15 mg which is a very manageable serving for myself. I also like that Blue Lotus Chai dissolves well and doesn't leave a lot of sediment at the bottom of the drink. You also have the option to use a spice blend that doesn't contain tea to remove any caffeine.
Blend and serve.
Making this Pumpkin Chai Adaptogen Latte couldn't be more simple. You add the ingredients to a blender and blend. You can also add them to a mason jar and shake, shake, shake or use a frother. Your choice! Just get the ingredients mixed in well.
As far as what milk/creamer/alternate milk to use, the choice is yours. I'm a huge fan of NutPods but you can use regular almond or coconut milk as well. Experiment and see what you prefer.
You can serve this beverage hot or cold. If you're going to make it cold, I recommend making a batch hot first, then chilling it in the refrigerator before serving over ice. The reason is because the hot water will help dissolve and blend some of the components a bit better. Just make sure to give it a shake before you pour it as there will be a bit of separation as it cools.
If you're not sold (which you should be) and still want a coffee based pumpkin spice latte, check out my Dairy-Free Pumpkin Spice Latte. It's delicious too! But really, it's time to ditch the coffee and make this one. You won't be sorry.

Tips:
Double, triple, or quadruple this recipe to make a larger batch and store it in the refrigerator for easy sipping.
Serve this hot or cold. I recommend making it hot first and chilling it from there for an iced version.
Feel free to omit the maca if you are enjoying this later in the day. Maca will give you a natural energy boost that may linger unwanted into the evening hours.
Is this caffeine-free?
A: That depends on the chai you use. You can use a chai spice blend that simply has traditional spices that are found in chai or you can use a traditional chai tea powder that also included black tea. Even then, the chai mix that I prefer to use is only 10-15 mg of caffeine which is in the manageable range for me
Do I have to add pumpkin?
A: While this recipe is designed to be a PUMPKIN Chai Adaptogen Latte, you can omit the pumpkin for a Chai Adaptogen Latte instead.
Can I make this unsweetened?
Yes. While I strongly prefer the taste with a bit of sweetener you can also serve it unsweetened.
print recipe
Pumpkin Chai Adaptogen Latte
This Pumpkin Chai Adaptogen Latte from The Whole Smiths is soon to be your favorite fall drink. There's no coffee and it's packed with adaptogens like ashwagandha and maca. Not to mention, it's dairy-free!
Ingredients
1

cup

hot water

¼

cup

almond/coconut/creamer or alt milk of your choice

1

tablespoons

canned pumpkin

1

tablespoons

maple syrup

1

teaspoon

reishi mushroom powder

½

teaspoon

chai powder

½

teaspoon

maca powder

Omit if you are having it later in the day as this will give a natural energy boost that may be unwanted after 4pm.

⅓

teaspoon

ashwaganda powder
Instructions
Add all of the ingredients to a blender and pulse on high until the ingredients are blended thoroughly.

Serve immediately or pour into an airtight container.