Everything Bagel Breakfast Burritos
This recipe for Everything Bagel Breakfast Burritos from The Whole Smiths is the ultimate time-saver for busy mornings. Meal prep ahead and reheat for easy serving. Not to mention, there is a gluten-free and dairy-free option for you.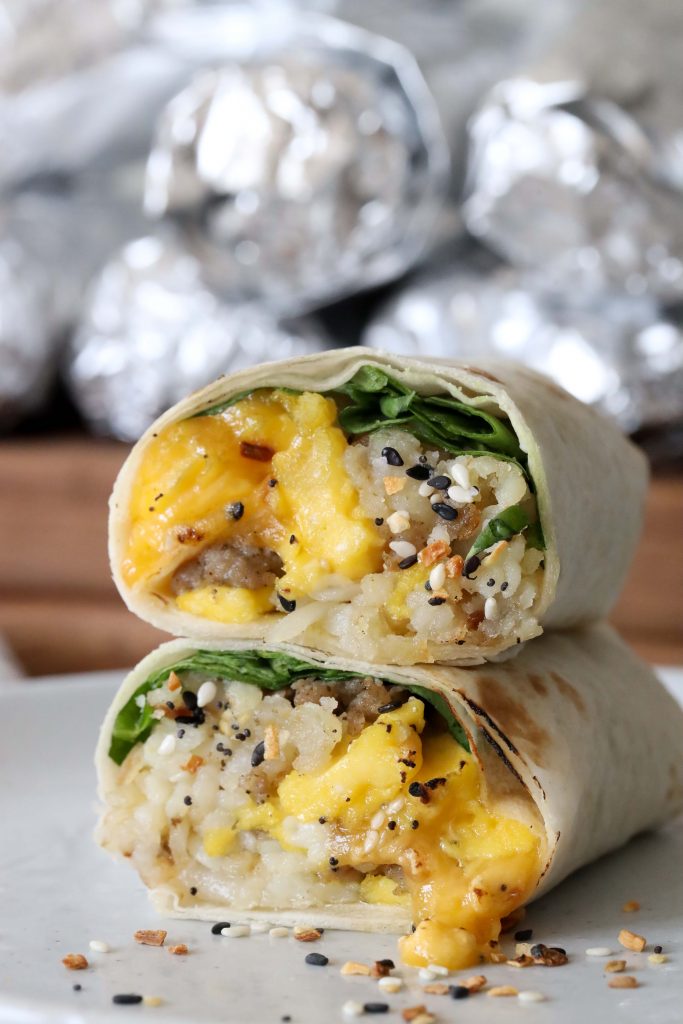 Breakfasts can be such a drag, can't they? Which is crazy because breakfast may be my favorite meal. It's just that it happens during the time of day I feel I'm most pressed for time. With that said, I'm all about creating breakfast recipes that can conveniently be made ahead and reheated or take just a moment to throw together. This recipe falls in the make ahead, keep on hand category.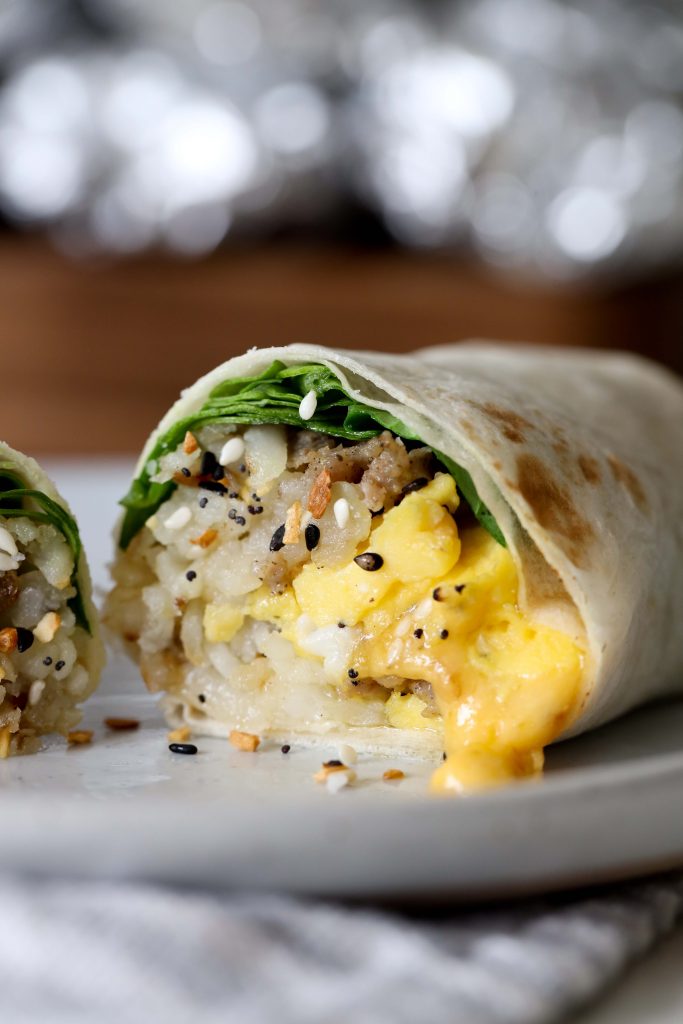 Nowadays more than I ever I need to be mindful of my time. Particularly in the mornings as I need to get my children ready for school and they are… home all day for school and think it's party time. Time management has become a priority and fussing with the kids on what to eat in the mornings tends to hinder that time management plan. Yes, if I told them they could eat whatever they want every morning they'd survive on donuts so that isn't an option.
Breakfast burritos mas rapido.
One of my favorite things to have in the mornings is a great breakfast burrito and a Dairy-Free Dirty Chai Latte. But really, if it's a weekday the chances of me preparing them is slim to none. They aren't hard to make by any stretch there's just a number of components to make that would feel time consuming in a time pressed morning. However! If you make all of the components in a large batch ahead of time and assemble the burritos, all you need to do is reheat them in the morning. That I can do.
Find a pocket of time on Sunday morning to prepare the ingredients for these Everything Bagel Breakfast Freezer Burritos and you will thank yourself the rest of the week. I found the most time consuming part to be just rolling and wrapping the burritos. But I have a suggestion! Recruit.
Find the most capable members of your household, get an assembly line going and have at it. It's a breeze! It can halve or quarter the time you spend doing it alone. Or maybe you find it highly relaxing to sit in the kitchen alone listening to a podcast and mindlessly zone out rolling tortillas. Just me?
Choose your tortilla.
Enter the freezer burrito. We're all used to microwavable burritos but those are typically filled with junk. These ones, not so much. Starting with the tortilla, you have your choice of which tortilla you prefer. I tested these out with regular flour, GF flour tortillas and grain-free tortillas from Siete Family and I'm happy to report that they all turned out wonderfully. Please note that these tortillas all varied in size and while this recipe will make 10 to 12 burritos that will vary based on how large your tortillas are. If you have extra filling, simply store them to use for breakfast the next day. If you need to add more ingredients to fully stuff your burrito, then go for it. The amounts in the recipes are estimates based on an average size burrito.
For the ground breakfast sausage we used the No Sugar Breakfast Sausage Grind from Belcampo. It's our favorite not only for its past but its sustainability.
Mix it up.
Feel free to stray a little from this recipe. I always recommend making one of my recipes according to the recipe the first time you make it so you know what it's supposed to taste like and what to expect. But from there, have at it. Because isn't that the ultimate goal? To be able to get enough kitchen confidence to start making your own creations and flavor combinations without a recipe?
I mentioned you have options with the tortillas but feel free to mix up the other components as well. If you'd prefer to use home fries or roasted potatoes (diced small) instead of hash browns because that's what you have on hand, go for it. Not a fan of spinach? Add another veggie. Don't do pork? Try ground beef instead. The most important part of the recipe is the measurements as it will give you a nice even number of burritos.
So make it this way, then tinker with it to your and your family's liking.
What do you think? Will these Everything Bagel Breakfast Freezer Burritos be making an appearance on our breakfast table soon?
Make sure to check out my Pumpkin Pie Egg Muffins and Broccoli Cheese Frittata for some other great make ahead, keep on hand breakfast options.
And as always, please pin this recipe to your Pinterest accounts!

TIPS:
If some members of your household and some are not, mark the outside if the aluminum foil with a GF to differentiate.
Feel free to add additional veggies, sautéed zucchini, halved cherry tomatoes.
I tested these burritos with traditional flour tortillas, gluten-free tortillas, as well as grain-free tortillas from Siete family and all came out well.
How long will these store in the refrigerator?
These Everything Bagel Breakfast Burritos will keep in the refrigerator for about 4 days or up to 3 months in the freezer.
How do I prevent my burrito filling from falling out?
First off, don't overstuff your burritos. If you need to add a bit less to the filling, do so. As well, make sure to leave enough room on each side to be able to "tuck in" your tortilla edges. Roll tightly and leave some room on the tortilla.
How long should I reheat these for?
That depends on two things, if they were frozen or in the refrigerator and your microwave. I'd start with 1 minute and increase from there.
print recipe
Everything Bagel Breakfast Burritos
This recipe for Everything Bagel Breakfast Burritos from The Whole Smiths is the ultimate time-saver for busy mornings. Meal prep ahead and reheat for easy serving. Not to mention, there is a gluten-free and dairy-free option for you.
Equipment
freezer paper

aluminum foil
Ingredients
2

pounds

ground breakfast sausage

2

teaspoons

avocado oil or oil of choice

2 ¼

teaspoon

salt

8

cups

hash browns

1

tablespoon

butter or ghee

12

eggs

beaten

2 ½

cups

fresh spinach

10

flour or gluten-free alternative 9such as Siete Family) tortillas

2 ½

cups

grated cheddar cheese

2

teaspoons

everything bagel seasoning
Instructions
Heat a large skillet or griddle pan over medium heat.

Once the cooking surface is hot, add the ground breakfast sausage to the pan or griddle and break it up with a spatula as you cook it. Cook the sausage for 6 to 7 minutes until it is browned and cooked through. Remove the sausage from the pan and set it aside.

Salt the hash browns with 2 teaspoons of the salt and add it to the hot griddle pan too cook in the remaining grease from the sausage. Add additional oil if needed. Cook the hash browns according to directions on package. Make sure to get a nice golden crust on them!

While the hash browns are cooking, heat a separate pan over medium heat. Add ¼ teaspoon of salt to the eggs. Once the pan is hot, add the butter and pour the beaten eggs in. Slowly stir the eggs with a spatula to create curds. If the egg starts cooking too quickly, turn the temperature down slightly. Continue to slowly stir the eggs until they are cooked through and set them aside.

To assemble the burrito, layer ¼ cup of the spinach onto the tortilla followed by 1/10 of the hashbrowns (about ⅓ cup cooked), 1/10 of the breakfast sausage (about ¼ cup cooked), 1/10 of the scrambled egg (about ¼ cup cooked), ¼ cup of grated cheese and top with ¼ teaspoon of the bagel seasoning. Basically, you are going to divide up each of the ingredients evenly amongst the 8 tortillas.

Once you have layered the ingredients onto the tortilla, fold two ends of the tortilla in and roll the tortilla to form a burrito. Wrap the burrito tightly in the freezer paper and again in the aluminum foil.

To serve, remove the foil and freezer paper and reheat in the microwave.

Store burritos in the freezer for up to 3 months or the refrigerator up to 5 days.